Microsoft have been encouraging the users of their Windows 7 & 8 platforms to upgrade to Windows 10 for free. If you haven't done this yet then consider it now. Make sure you have backed up all your important documents and emails on to an external drive.
You can download the 'Media Creation Tool' from here which can then be run to do the upgrade. You need to make sure that all your programs are closed and that your computer is plugged in. Set it running, answer a few questions, and then leave it overnight.
There are a couple of very nice features you may want to explore:
Set the Start Screen to Full. Click here to see how to do it.
Click Start and then just type something to look for and see how 'suggestion' box pops up!
With the new 'Start Screen' it is now possible to have none of the horrible mess of icons on your desktop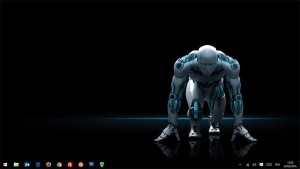 Get that new / clean / fresh look with Windows 10!